Society takes handover of next phase of affordable Dingwall homes
Tuesday 12 December 2017
We have taken handover of a new phase of affordable homes in Dingwall, delivering fresh progress on our commitment to bring 750 new homes to the Highlands by 2020.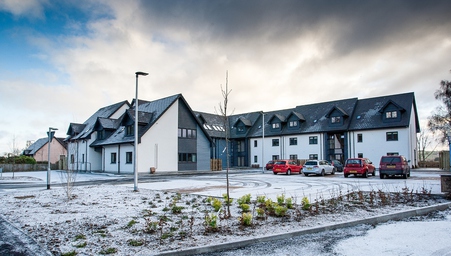 The new development comprises a total of 22 modern apartments, including 16 available for social rent with ourselves and six for mid-market rent with our subsidiary, Highland Residential.
Representing a total investment of £2.8 million, including £1.4m support from the Scottish Government, construction commenced at the site in September 2016 with Simpson Builders appointed as developer.
Calum Macaulay, our Chief Executive, said: "The handover of these new homes will be of great benefit to the Dingwall community where demand for good quality, affordable housing continues to grow.
"This is largely the case across the Highland region, and as a housing society, Albyn is ambitious to maintain its status as an affordable housing developer of scale. By building good quality, energy efficient homes in the communities they are needed the most, we are contributing not only to addressing the housing shortage, but the continued sustainability of the region and its distinct communities as a whole."
Set up in 2015, Highland Residential leases properties under the new mid-market rent affordable homes model, which evidence shows supports longer, better and more sustainable tenancies. Highland Residential also works with private landlords, driving an increase in affordable private rental properties across the Highlands.
Business Development Manager at Highland Residential, Sam Cribb, added: "We're really pleased to be growing our portfolio of mid-market homes in Ross-shire, particularly Dingwall where demand remains high, but quality accommodation remains hard to come by for private renters.
"Not everyone qualifies for social housing, but for many people private rent remains expensive and unaffordable, making saving for a mortgage deposit near impossible. Mid-market rent is an ideal alternative and can provide a solution for those who aspire to homeownership by enabling them to put money aside for that all important deposit."
Housing Minister, Kevin Stewart said: "Everyone in Scotland should have a safe and warm place to call home and our ambition to deliver 50,000 affordable homes during the lifetime of this Parliament will help to deliver this.
"I am therefore delighted to see that our support has helped to deliver this excellent and much needed affordable housing development in Dingwall.
"These new homes will bring benefits to the tenants as well providing a valuable contribution to the needs of the local community."
Photo below:Gordon Simpson of Simpson Builders with Helen Cameron, Albyn Housing Society