Our Invergordon
Today (Friday 25th August) Invergordon Off The Wall, along with Invergordon Church of Scotland, held a community event to celebrate the stories of Invergordon, a free event for all generations to attend.
During the daytime, there were activities at each mural along the Invergordon Mural Trail. As Albyn's offices are host to 2 of these incredible murals, 'The Loch' and 'Our Legacy', we participated in the festivities.
We were pleased to see pupil groups from local schools coming past and learning about the mural at the front of our building 'The Loch'. This mural depicts the mining of red sandstone from the quarry which later became Kildary Loch – you can read all about the commissioning of this mural here.
The Loch – Off The Wall (invergordonoffthewall.org.uk)
Pupils from Newmore Primary are pictured above.
A former Angling club member, Catherine, volunteered at the mural, telling stories to school children as they travelled along the mural train, about the murals and the areas that it depicts.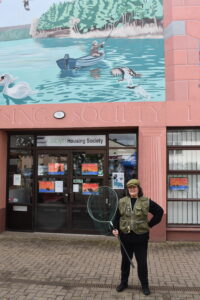 Local primary and secondary school children created and submitted a range of pictures, poems and performances telling the tales of the murals and the stories behind them. Albyn is delighted to be displaying some of these in our windows which you can see from the pictures above, and on our social media.