Universal Credit information
Universal Credit has undergone some changes and as of January 2015 Jobseekers with children (familes) can now make new claims. Only specific groups of jobseekers are able to claim Universal Credit.
See the attached Information Leaflet for further details.
All Housing Benefit claimants will be migrating over to Universal Credit.  DWP have launched a new guide 'Universal Credit and You' which gives an introduction to UC for people who are claiming it.  It covers lots of useful information for both claimants and support staff. Details can be found here.
Pension Credit - Changes from May 2019
From the 15th of May 2019 there is going to be a change to Pension Credit that will impact mixed aged couples wishing to apply.
Currently and until the 14th of May 2019 couples where one individual is above and the other individual is below the qualifying age for Pension Credit are able to make an application for Pension Credit.  After 14 May couples in these circumstances will not be eligible to apply for pension credit; instead they will have to apply for Universal Credit.
Mixed age couples who are in receipt of Pension Credit on 14 May will continue to receive Pension credit after that date so long as there is no break in their entitlement.
More information can be found on this government factsheet:
Source: SFHA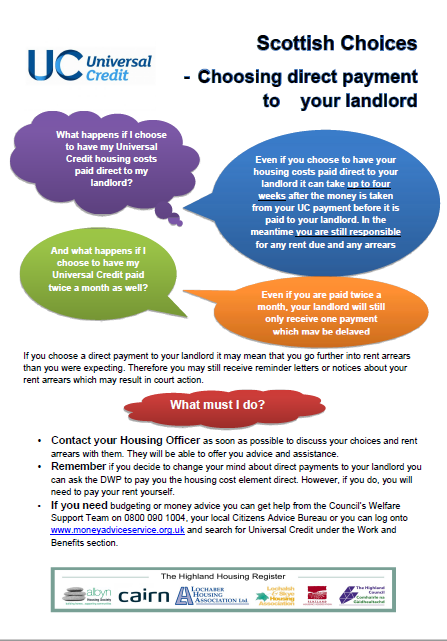 Five ways to get ready for Universal Credit
While many people in the Highlands have already transitioned onto the new Universal Credit system, there are a selection of residents yet to make the migration. As of June 2019, the Department of Work and Pensions will be rolling out a 'Managed Migration' of people who are currently on legacy benefits, over to the new Universal Credit system.
Here are five tips to get ahead and get prepared for Universal Credit.
Whether you're a whizz on excel or jot everything down in a notebook, it's worth investing some time in your budget. It doesn't have to be an intimidating process, all you need to know is what you have coming into your bank account, and what you have going out, and as long as you have more coming in than going out you've successfully budgeted. There are a range of great budgeting apps available to download, or pop into your nearest Citizens Advice Bureau and they can talk you through the simplest ways to budget, allowing you to be fully in control of your finances ahead of Universal Credit.
The majority of communication for Universal Credit is done online. Applications, journals, help and advice can all be accessed digitally, so make sure you're confident enough to embark on an online journey alone, or ask your local housing officer to guide you through the process.
You can access the internet free of charge from any of the Albyn Housing Society's office premises, community libraries, job centres and Citizens Advice Bureaus.
Getting a good current account is invaluable – use online comparison tools to get the best account to suit your needs.
It's also worth setting up online banking so that you can keep an eye on your daily outgoings and monitor your overall budget in real time. There are always unforeseen expenses but if you're prepared for these, they shouldn't make too much of an impact.
MAKE YOUR HOUSING OFFICER AWARE
With the new Universal Credit system, you have the option of paying your rent to your landlord direct, or the Department of Work and Pensions can pay it directly to your landlord on your behalf by debiting the money from your allowance before it is paid to you.
The decision is completely up to the tenant, however for the sake of being completely in control of your finances, it is advisable to ensure you receive your full entitlement and make the payment to your landlord yourself. That way, you can then set up a direct debit or bank transfer to your housing society and stay in control.
By paying rent like this, you can be absolutely sure that it is paid, and just as important, paid on time.
In the initial roll out stages of Universal Credit, it takes a bit of getting used to the payment dates, so, it's worth having a chat with your bank. Make them aware that you are transitioning over to the Universal Credit system and you'll be surprised at how accommodating they can be. By doing so, you can alleviate the stresses of overdraft charges, and late payments.
If you can, put a small amount of money away every week in preparation for the transition to Universal Credit. There is a lag time between an application and first payment where you may receive no money, so it's wise to have a small pot of emergency money available to get you through a couple of weeks. If this isn't an option, which for many it won't be, you can apply for advanced payments through Universal Credit, although the payback period can be strict.
Feed Four for a Fiver - 10 budget friendly winter recipes
The nights are drawing in and the days are getting colder so we thought we would bring a bit of warmth to your kitchen by sharing some great recipe tips. Here at Albyn we know that cooking on a budget can be a real challenge, especially for a family. That is why we have scoured the internet to find the best dinner recipes that allow you to feed four for a fiver! While exact prices might vary depending on where you shop and the offers that are on, these budget-friendly recipes aim to make sure low cost doesn't mean low quality at mealtimes. We've put together a mix of meat and vegetable based dinners as well as a couple of soups to warm the soul this winter!
Got a recipe you think people should know about? Share it with the Albyn community HERE!
ONE - Chicken Fajitas (ASDA Good Living) – 30 mins - £1.19 per serving
To kick us off we have a Mexican meal that has become a household favourite from Acapulco to Achmelvich. A perfect quick and easy meal that won't break the bank!
What you'll need:

4tsp paprika
4tsp ground cumin
4 boneless and skinless chicken thigh fillet
2 red onion, sliced
1 green pepper, deseeded and sliced
250g cherry tomatoes, chopped
4tbsp reduce fat crème fraîche
1tbsp olive oil
Pack of tortilla wraps

How to make it:

Mix the spices in a bowl with the olive oil, season and coat the chicken.
In a hot frying pan over a medium heat, cook the chicken on both sides until it's cooked through, starts to char and no pink remains. Halfway through, add the onion and pepper to the pan turning them when they start to char.
Slice the chicken into strips and arrange on the tortillas. Add the veg and cherry tomatoes: drizzle with crème fraîche and fold to serve.
BONUS TIP: If you like it hot then why not mix some chilli powder with the other spices!
TWO - Sausage and sweet potato casserole (Netmums) – 50 mins - £1.28 per serving
There is nothing quite like a casserole to get you feeling cosy after a long day. This sausage based recipe is sure to go down a treat with all the family.
What you'll need:

8 sausages
500g sweet potato (peeled), diced (can use regular potatoes if you'd rather)
1 onion, diced
800g chopped tomaotes (2x tins)
400g cannellini beans (1x tin), drained
200g sweetcorn (1x tin)
fresh coriander (to serve - optional)
sour cream (to serve - optional)

How to make it:

Grill the sausages and chop into chunks, meanwhile peel, chop into chunks and par boil the sweet potato (for about 5 mins)
Sweat the onions then add the chopped tomatoes, cannellini beans, sweetcorn, sweet potatoes and sausage chunks - bring to boil then simmer for 40 minutes
Serve with fresh coriander and sour cream (optional)
Add Salt and Pepper to taste
THREE - Courgette and Pea Risotto (Netmums) – 30 mins - £1.30 per serving
Who says risotto has to be a fancy meal?! This vibrant, nutritious meal is equally suited to having friends and family round for dinner or as a quick end of the day meal. Enjoyed by vegetarians and meat eaters alike this risotto is a cheap and tasty showstopper!
What you'll need:

250g of arborio rice
2 courgettes, grates
100g of frozen peas
3 mint leaves, chopped
1 glass of dry white wine
1 onion, chopped
1L vegetable stock
25g of butter

How to make it:

Melt butter in large non-stick saute pan and cook the onion gently for a few minutes until soft
Add in the grated courgette and peas
Throw in the rice and stir to get it covered in butter
Pour in the wine and turn up the heat a little, stirring occasionally until absorbed
Gradually add the stock - pour in 250ml stock, stirring till absorbed
Repeat this until the rice is cooked and there is a little liquid left - stir in the mint and serve
Add Salt and Pepper to taste, sprinkle parmesan on top if desired
FOUR - Aubergine, bean and potato curry – (GoodToKnow) – 40 mins - £1.20
What better way to beat the winter chills than to coorie in with a curry? This warming and healthy dish will leave the whole family satisfied!
What you'll need:

3tbsp sunflower oil
2 large aubergines, cut into large chunks
1 large red onion, sliced
3 garlic cloves, chopped
½ x 290g jar Kashmiri Paste (other curry pastes will also work)
450g new potatoes, halved
450g tomatoes, quartered
250g green beans, trimmed
4tbsp chopped fresh coriander
Natural yogurt, to serve (optional)

How to make it:

Heat the oil in a large saucepan, add the aubergines and cook for 5 mins. Stir in the onion and cook for a further 10 mins until the aubergine is golden and the onion soft.
Stir in the garlic and curry paste and cook for 2 mins.
Add the new potatoes and tomatoes and stir in 300ml (½ pint) water. Bring to the boil, cover and simmer for 15 mins until the potatoes are tender.
Add the beans and cook for 5 mins until tender. Check the seasoning and stir in the coriander.
Serve with a dollop of natural yogurt.
BONUS TIP: If you make too much you could of course freeze it but why not add some water and blend so you have an aromatic soup for the next day?!
FIVE - Carrot and fresh coriander soup – (allrecipes) – 25 mins - £0.80 per serving
Winter and soup go together like summer and ice cream! This classic recipe is as delicious as it is cheap and is sure to raise a smile on even the bleakest of days…especially when you remember how little it cost!
What you'll need:

1 tablespoon of olive oil
4 large carrots, peeled and roughly chopped
1/2 large onion, roughly chopped
900ml (1 1/2 pints) vegetable stock
bunch fresh coriander, roughly chopped
Crusty bread (to serve, optional)

How to make it:

Heat the oil in a large saucepan over medium heat.
Saute the carrots and onion for a few minutes until the onion has softened a little.
Pour in the vegetable stock and add the coriander. Bring to the boil, and cook until the carrots are tender, about 10 minutes.
Remove from heat and allow to cool slightly.
Puree the soup until smooth, using a hand blender or food processor. Reheat before serving if necessary. Serve with crusty bread
SIX - Spaghetti Carbonara – (BBC Good Food) – 15 mins - £1.31 per serving
In just fifteen minutes you and your family could be enjoying a taste of the Italian countryside with this filling, hearty pasta dish. An ideal recipe that won't short change when you're short on time!
What you'll need:

100g pancetta (or smoked bacon)
100g grated parmesan (or Grand Padano)
3 large eggs
350g spaghetti
2 garlic cloves, finely chopped
50g unsalted butter
salt and pepper

How to make it:

Boil the pasta in a large pan of boiling salted water.
Add oil to a frying pan and fry pancetta/bacon for a few minutes until golden and crisp. Add garlic, fry for 1 minute, then turn off the heat.
Lightly whisk egg and yolks with most of the Parmesan and some salt and pepper.
Drain pasta, reserving a little of the cooking water.
Add eggs and 1 tbsp cooking water to the pasta, then mix until pasta is coated and creamy. Stir in the pancetta/bacon and garlic then serve, topped with the remaining Parmesan.
BONUS TIP: For an extra health boost why not add some sliced mushrooms when frying the bacon or mix a handful of frozen peas in at the end…or both!
SEVEN - Pork chops in mustard and leek sauce (ASDA Good Living) – 40 mins - £1.09 per serving
This dish wouldn't look out of place in a fancy restaurant and is a great option for when you're looking for something a little special to lift the spirits this winter. Either by itself or with a side of new potatoes people won't believe it was less than a fiver!
What you'll need:

2 leeks, rinsed, trimmed and roughly chopped
4 tsp wholegrain mustard
4 pork chop
4 tbsp olive oil
4 tsp plain flour
400ml semi skimmed milk

How to make it:

Heat half the olive oil in a pan over a medium heat, add the leek, season and cook until softened.
Once the leeks are soft, add the mustard and flour, stir for 1 min.
Add the milk slowly, stirring continually until a beautiful creamy sauce appears before your eyes.
Meanwhile, in a separate pan, season the pork chop on both sides, then fry in the remaining oil over a medium heat for 7 mins on each side until cooked through and no pink remains. Allow the chop to rest for a few minutes, then serve with the mustard and leek sauce.
BONUS TIP: If you want to make the meal heartier or spread it further then why not simply serve with a side of boiled potatoes to soak up all the delicious sauce
EIGHT - Spring green fried rice & eggs – (BBC Good Food) – 20 mins - £1.36 per serving
Imagine if you could have a taste of South-East Asia ready to serve in twenty minutes without needing to order in a takeaway? Well imagine no more because that's exactly what this dish is!
What you'll need:

2 tbsp vegetable oil
4 eggs, 4 beaten
Large bunch of spring onions, chopped into 3cm lengths, tops finely sliced to serve
2 green chillies, chopped
4cm chunk of ginger, grated (2 tsp of powdered ginger will do if necessary)
2 garlic clove, grated
300g spring greens, shredded
2 x 250g pouch of ready-cooked rice (fresh rice is cheaper if you have time)
3 tbsp soy sauce, plus extra to taste
sesame seeds, toasted, to serve (optional)

How to make it:

Heat a splash of the oil in a large non-stick frying pan over a high heat. When hot, crack the eggs in and turn the heat down. This should make the eggs nice and crispy – without burning – while the yolks cook. Use a fish slice to remove, set aside on kitchen paper and cover with foil to keep warm.
Add the remaining oil to the pan, then scatter in the chopped spring onions, chilli, ginger and garlic and gently fry until softened, about 2-3 mins. Tip in the beaten egg and leave for 30 seconds until just set, then mash up with a spoon. Tip in the spring greens with a splash of water and cook until wilted. Add the rice and soy sauce and mix everything together, then season and tip into two bowls. Top with the eggs, sliced spring onion and sesame seeds to serve.
NINE - Baked broccoli gnocchi – (ASDA Good Living) – 35 mins - £1.02 per serving
Much like the risotto this is a simple, classic Italian dish that seems like it should be far more expensive than it is! A rich, filling meal that will soon become a family favourite.
What you'll need:

2 onions, sliced
400ml semi-skimmed milk
120g Stilton
400g gnocchi
200g of broccoli (frozen or fresh)
4 tsp olive oil
4 tsp plain flour

How to make it:

½ onion, sliced
100ml semi-skimmed milk
30g Stilton
100g gnocchi
A handful of frozen broccoli (about 50g)
1tsp olive oil
1tsp plain flour
TEN - Hearty Vegetable Soup – (Tesco Real Food) – 50 mins - £1.22 per serving
No winter recipe guide would be complete without a vegetable soup would it? Now we can't promise it'll be as good as the one your Granny used to make but we can promise big flavour and low cost! The beauty of this is its versatility, if you can't get all the vegetables or if you just have some in the fridge needing used chuck them in and enjoy!
What you'll need:

1 tbsp olive oil
1 onion, finely diced
1 carrot, peeled and diced
2 cloves garlic, finely chopped
1 stick celery, diced
1 tbsp picked thyme leaves
80g (3oz) pearl barley
900ml (1 1/2 pints) hot vegetable stock, simmered for 20 minutes
100g (3 1/2oz) broccoli florets, finely sliced
1 tomato, diced
handful baby spinach leaves, chopped
4 tbsp pesto with fresh basil

How to make it:

Heat the olive oil in a large nonstick saucepan. Add the onion and cook until softened. Next add the carrot, garlic and celery and cook for 5 minutes.
Add the thyme leaves, pearl barley and vegetable stock and simmer for 25 minutes, or until the barley is tender. Add the broccoli and tomatoes, and cook for a further 5 minutes. Season to taste.
To serve, stir through the spinach. Ladle into bowls and spoon some pesto over each one. Drizzle some extra virgin olive oil over each one and serve.
Despite all the picturesque postcard scenes of snowy mountains and frozen lochs shimmering in crisp winter sun, the transition from summer can be a challenging time for many. And with Christmas preparations and colder nights just around the corner, the chance to save some money on energy bills is always welcome.
So, by cutting down on wasted energy elsewhere, you don't need to think twice about putting on the radiator. Here are five easy ways you can save energy this winter, helping you to keep the bills down, the temperature up, and perhaps save a penny or two for the festivities!
All rooms are not equal: One of the simplest tips on the list, but it's still incredibly effective. If you know you are going to be spending most of your time in the living room then does the bathroom radiator really need to be set at the same temperature? Does the bedroom radiator need to be on all day if you're going to be watching TV next door? By setting the radiators to different temperatures based on how you use your home you can drastically cut down on wasted heat!
Timing is everything: Almost all thermostats come fitted with a timer that could lead to big savings on your bill. If you know you're going to be in bed between 10pm and 7am, then there is no point having the heating blasting through the night. Instead set the timer to come on at 6.45am meaning you wake up to a toasty room and the knowledge you've saved money while you slept!
Bleed the radiator not your bank account: Bleeding a radiator is a lot easier than you'd think, and the only special piece of kit you'll need is a radiator key that can be bought for less than a pound! By releasing air that has built up in your radiator you can make it hotter and more efficient. Just make sure to do so when your heating is switched off and the radiator is cool, a handy step-by-step guide can be found here!
Foil old Jack Frost: It's easy to forget the heat that comes out the back of our radiators but this shouldn't be wasted! Foil radiator reflectors help the heat sent toward the wall bounce back into the room rather than being lost. Available to buy in most hardware shops, these can be a real money saver. If you're looking for an even cheaper option though, regular kitchen foil placed on the wall behind the radiator can have a similar effect!
Shut the door on wasted energy: By simply shutting the doors to each room in your house you can keep heat in and bills down! Heat gets lost circulating around the home, especially when heating isn't needed in some rooms. Making sure the doors are closed to keep heat in is so simple but so effective.
BONUS TIP: We know we promised five tips but this one was just too effective and easy to miss out. Your curtains, much like doors, can have a huge impact on the warmth of your home. Natural heat might not be what we usually think of in winter but by opening the curtains when there is sunlight you can make the most of the Sun's heat. Then, when the sun goes down, closing the curtains helps trap heat in your home through the long nights!
Getting the most out of your storage heater
While they may have fallen out of fashion in recent years storage heaters can still be an effective way to heat your home. By storing heat overnight then releasing it over the course of the day they take advantage of lower electricity prices at night.
To get the most out of your storage heater, we've put together these handy tips to help you keep cosy and save money this winter.
What is tomorrow looking like?
Change your input settings based on tomorrow's forecast. If it is likely to be relatively warm the following day then your heater will need less charge to keep the house warm. Turning your input setting down will save you spending money on electricity you won't need the following day. Likewise if it's looking extra chilly tomorrow then think about turning the input up to make sure you have enough heat to get through the day.

Start slow
Providing you're warm enough at home it is best to leave your output at a minimum overnight and into the morning. This stops unnecessary heat use through the night and allows you to have as much stored heat as possible for use the following day meaning you can make sure your house is toasty when the next evening is drawing in.
Avoid add-ons
Steer clear of using additional plug in heaters to top up the heat. In almost all cases the storage heater will be a more efficient option so if you're feeling the need for extra warmth then increase the input and output on your storage heater.
Give it a rest
Finally, if you're going to be away from the house for a day or two then turn your heaters off at the wall. Doing this saves you using electricity heating a house that doesn't need it which is good for the environment and your bank balance!
How to manage your money now to get the most out of the summer holidays
Preparing for the summer holidays can be a time filled with fret, stress and financial worry for many parents. This summer, leave the stresses in the shade with Albyn Housing Society's top tips for preparing for the holidays.
PLAN AHEAD FOR SUMMER 
Planning ahead will not only alleviate the stress of a six week stint with children at home, but it will ensure you get the best deals and best prices on various different activities meaning the school holiday schedule will be filled up in no time.
Planning days at local museums, bird watching spots, local parks and ponds, and swimming pools are free or inexpensive activities that can be stretched out across an entire day. This is a perfect opportunity to take a picnic and avoid unnecessary eating-out charges.
Having a busy schedule will mean the days spent at home become a luxury rather than a chore for both parent and the child.
Those days at home should also be planned ahead; treasure hunts, picnics in the garden, bug collecting or identifying, garden tea parties, free printable activity sheets and movie nights are sure to keep everyone entertained.
MEMBERSHIPS PAY OFF
For just £10 per month, you can become a member of the National Trust and have unlimited family access to castles, workshops, gardens (over 500 venues) as well as free parking at all National Trust associated locations.
For older children, just £10 a year will give them unlimited access to these venues*.
Many local community libraries have free workshops or reading classes available throughout the summer holidays and should be utilised by families. Get in touch with your local community centre now and find out what programme of school holiday activities they will be running.
*This option doesn't include free parking.
'Kids Go Free'
With most rail providers offering free rail travel for up to two children aged between 5 – 15, planning a day in an exciting new town or city has just become much more affordable.
Having a day on the train can be stress free if planned in advance. You can prepare key landmark train bingo activity sheets in advance and make the train journey an interactive experience for children. Keeping an eye out for key landmarks and countryside features will keep them entertained for hours!
A couple of healthy homemade snacks are also handy to have nearby; sliced up apple, carrot sticks and melon are cheap to buy and stay fresh in an airtight freezer bag.
Start shopping now
If you start picking up a couple of additional food items in each shop, it can make a massive difference in the long run – especially in the discounted aisle.
Freezable items are perfect for stockpiling – loaves of bread can be frozen and re-toasted for breakfasts and picnics, any discounted fresh produce can be frozen on the day you buy it and used for summer dinners.
Stretch your food
Catering for three meals a day rather than just one or two will have an impact financially but a couple of simple savvy cooking tricks can make your food shop go that extra mile.
a)       Adding red lentils to bolognaise or chilli con carne adds additional protein to the meal as well as stretching it out by another 50%! The red lentils will puff up and will be almost undetectable in amongst the other ingredients.
b)      Yellow lentil dahl served with rice is a very simple, and very cost-effective meal option. A packet of yellow lentils costs £0.75 and can make up to 10 portions of dahl… and it freezes like a dream!
c)       Finely chopping carrots, onions and celery makes a tasty and substantial base for most one-pot dishes. This trick helps to stretch out the meal and is helps you to sneak lots of vegetables into dishes, and they go undetected by children.  Win, win!
d)      Buy now, freeze and use at a later date. Having a freezer filled with frozen meats, bread and frozen vegetables ensures meal prep time is less stressful, less costly and in the long run, healthier.